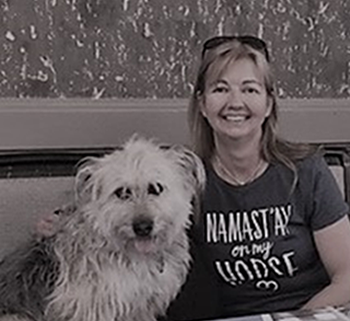 Rachel Dziver is a Chief Petty Officer Second Class with the Royal Canadian Naval Reserves serving at HMCS TECUMSEH in Calgary. During her career she has trained and been employed in Halifax, Esquimalt, Alert, Calgary and Quebec. Rachel spent time on the West Coast sailing as the Senior Naval Combat Information Operator (NCIOP) in both HMCS SASKATOON and HMCS WHITEHORSE, was employed as a Port Security Officer of the Watch and also as an On the Job Training Co-ordinator. In 2009 Rachel took the position of Platoon Warrant Officer to start up the Integrated Personnel Support Centre, Calgary. Upon completion of that contract, she transferred back to HMCS TECUMSEH. Rachel completed her tenure as Coxswain of HMCS TECUMSEH in August 2017 and is currently serving as the NCIOP Military Occupation Advisor.
Rachel is a Certified Horsemanship Association English and Western riding coach and an Equine Assisted Personal and Professional Development Coach. She has an Andalusian mare, Diosa, and currently trains in dressage, jumping and at liberty. Rachel shares her life with a canine ball of rescued energy named Harley, a Siamese, and a ginger Tabby. Her education is in Sign Language Communication and Equine Science Production Management. Rachel is currently employed as a Policy Advisor with Provincial Addiction & Mental Health for Alberta Health Services.
Rachel Dziver joined Can Praxis in 2014 as the Admin Coordinator. In 2017 Rachel started assisting with Phase II and recently added the title of Director to her role.